Overview
In January this year Dr Alex Allinson, MHK for Ramsey, was given permission to bring a Private Members Bill (the Bill) to Tynwald to reform the Termination of Pregnancy (Medical Defences) Act 1995 (the Act). 
The Bill proposes changes to the Act to offer women access on request up to 14 weeks, and changes to the grounds for access in the later stages of pregnancy.
It was 50 years ago, in October 1967, that the British Government passed the Abortion Act. For the first time, abortion became truly accessible on the NHS. Previously, there had been increasing numbers of illegal 'backstreet abortions' identified as causing deaths and serious complications. The 1967 Act allowed for abortion up to 24 weeks, if continuing the pregnancy would involve risk to the physical or mental health of the pregnant woman or any existing children of her family, or if there was a substantial risk that if the child was born it would suffer from serious physical or mental abnormalities. This Act applied to England, Wales and Scotland but was never extended to Northern Ireland.
After protracted debate, the Isle of Man Government agreed a Termination of Pregnancy (medical defences) Act in 1995. This allowed abortion up to 24 weeks if continuing the pregnancy threatened the life of the pregnant woman. There was a provision for abortion to prevent grave permanent injury to the physical health of the woman, but possible injury to the mental health of the woman had to be confirmed by a consultant psychiatrist. There was a provision for abortion where the child was unlikely to survive birth or suffer serious handicap. There was also a provision for victims of rape, but only up to 12 weeks and only if the woman reported the assault to the police and signed an affidavit. Even then, an abortion would only be allowed if the doctors involved believed the woman, which could cause unnecessary distress.
Although the 1995 Act technically allowed abortions on the Island, only a handful are carried out each year. Restricted access forces most Manx women to travel to the UK for private abortions. These cost between £450 and £1500 plus the cost of travelling to a clinic. Women have to make all the arrangements themselves, and often receive no support or follow up when they return to the island.
The latest figures show that last year 88 women who gave a Manx address had a private termination in England and Wales. This is down from 105 the previous year. It is not possible to establish how many others gave a UK address to access free services.
Although abortion is freely available in England, Wales and Scotland, due to better sex education and access to contraceptive services the number of women needing abortions has been steadily decreasing (graph taken from Abortion Statistics, England and Wales: 2016).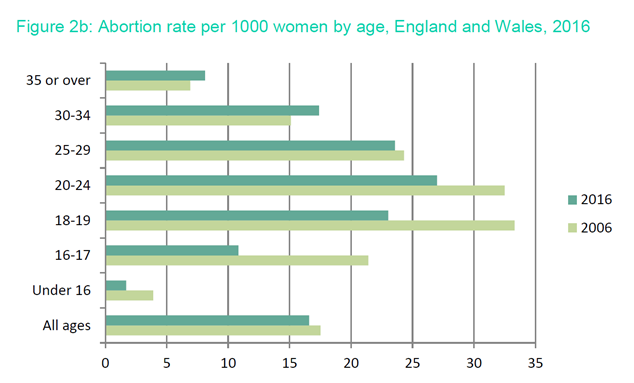 The introduction of medical termination in 1992 enabled doctors to prescribe pills which bring on a miscarriage. In England and Wales, over 92% of terminations are carried out before 13 weeks and in Scotland 82% of all terminations are carried out medically using pills. Manx women often suffer delays accessing services in the UK and only 16% of them manage to have a medical termination with the majority having to undergo a surgical procedure.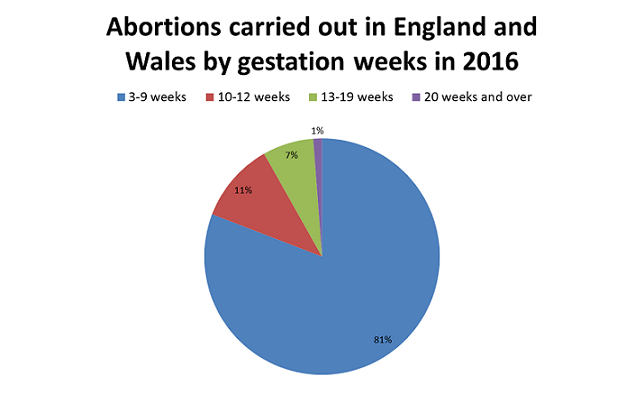 Abortion pills are available online, and last year the Isle of Man Post Office intercepted 10 packages of these as required by law. When the 1995 Act was written, this safe and cheap way of providing abortion services was not anticipated. If a woman takes pills ordered from an online supplier, they are unlikely to try and access the follow up medical care or advice they may need.
The Bill proposes access on request to women at the early stages of an unwanted pregnancy to have a termination on the island up to 14 weeks. The majority of abortions can be done early and safely if access is improved. After 14 weeks, the reasons for having a termination change to reflect the difficult decision women may have to make if their own health is suffering, if their social circumstances change or if they discover that there is something seriously wrong with their developing pregnancy.
The Bill emphasises the role of prompt non-biased counselling for all women to help them examine their choices and arrive at the right decision for them in the early stages of pregnancy. It also ensures that those health care staff who have conscientious objections to abortion, for whatever reason, can decide not to take part in abortion procedures.
For a paper copy of the survey, and to view paper copies of the associated documents, please visit the Tynwald Library. 
Why your views matter
This consultation aims to refine the bill before it is debated in Tynwald to represent a range of opinions from members of the Manx public and professional organisations.
The Bill aims to restate the law relating to abortion with amendments to update the Termination of Pregnancy Act 1995. Throughout 2016-17 this has been the subject of increasing public debate and media attention, with an online petition in favour of reform gaining 2,263 signatures in 2016.
Thank you for taking part.